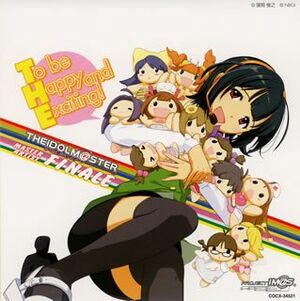 An office clerk at 765 Production. while Kotori only appears at the end of the actual Idolm@ster game, she is a recurring character within the Drama CDs. Originally featured on the Idolm@ster arcade game webpage in the F.A.Q. section, she has accumulated enough fans to appear in other aspects of the Project IM@S franchise. Among the few things disclosed about her personality and character, we know that Kotori is a little older than Azusa (making her somewhere in her twenties), and despite not being an idol herself, loves to sing. Her last name literally means "soundless". In the
iDOLM@STER
anime, Kotori takes an active role with the girls whenever the Producer and Ritsuko are busy. She was also revealed to be a former idol produced by Junjirō and Kuroi before they went their separate ways.
Voiced by: Juri Takita

Image Color: Light Yellow (the color of canaries)
Image Song: "Sora"
Birthday: 9 September
See Gallery
Edit
Ad blocker interference detected!
Wikia is a free-to-use site that makes money from advertising. We have a modified experience for viewers using ad blockers

Wikia is not accessible if you've made further modifications. Remove the custom ad blocker rule(s) and the page will load as expected.