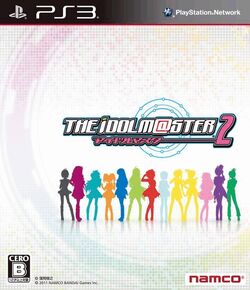 THE iDOLM@STER 2 is a raising simulation game that was released exclusively in Japan by Namco Bandai Games for the XBOX 360 on February 24, 2011 and for the PlayStation 3 on October 27, 2011. The game is a sequel to THE iDOLM@STER and THE iDOLM@STER: Live For You!, and like those games, follows the career of a producer who works for the fictional integrated 765 Production and 961 Production idol agencies and has to work with a selection of thirteen pop idols. READY! is the theme for the PS3 version.
READY! Lyrics
Edit
ARE YOU READY?
I'M A LADY!
Let's begin!
I just can't fail!
No, I'm NO.1!
Start, today's stage show begins.
Check! Mic, makeup, outfits.
IT'S SHOW TIME! TRY THE CHALLENGE!
Stardoms put me in the spotlight.
It leads me to my debut.
I don't wanna lose.
This show will be wonderful.
Alright, on your mark, get set, let's go! (Yeah!)
(Chorus) Are you ready?
I'm lady! Let's sing.
One by one, you will
have entertainment.
Are you ready?
I'm lady!
Let's begin!
I just can't fail!
No, I'm No.1!
The game's soundtrack was released in 2011. Two more albums were released: THE IDOLM@STER 2: The world is all one and THE iDOLM@STER 2: SMOKY THRILL. They were both released in the same year as the game's soundtrack.
Ad blocker interference detected!
Wikia is a free-to-use site that makes money from advertising. We have a modified experience for viewers using ad blockers

Wikia is not accessible if you've made further modifications. Remove the custom ad blocker rule(s) and the page will load as expected.