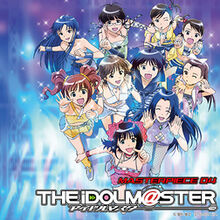 The Idolmaster Masterpiece 04 is a musical album starring all the original arcade idols of 765 Production. This CD album included the M@STER VERSIONS of the songs The Sun's Smile, Agent Into The Night and Mahou wo Kakete! as well as the game versions to these songs and other songs from the game including the theme song itself and Positive!, and other songs sung by ALLSTARS groups.
It was released on 31st May 2006 at the price of 3500 dollars. Although Takane Shinjō and Hibiki Ganaha don't appear yet, they can make a cameo in the front cover of the album as a shadow.
Ad blocker interference detected!
Wikia is a free-to-use site that makes money from advertising. We have a modified experience for viewers using ad blockers

Wikia is not accessible if you've made further modifications. Remove the custom ad blocker rule(s) and the page will load as expected.